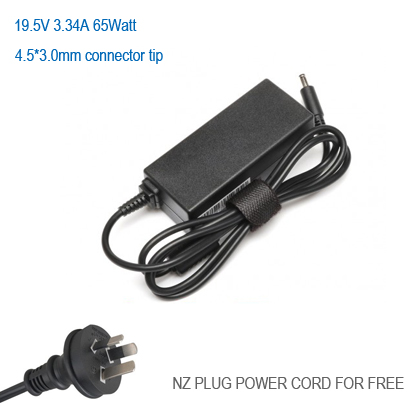 Dell 19.5V 3.34A 65Watt Charger With 4.5*3.0mm Connector Tip Replacement Dell Laptop Power Adapter


Availability: In Stock
NZD $48.98

Dell 19.5V 3.34A 65W Charger Features
Input: AC 100-240V
Output: DC 19.5V 3.34A 65W
Connector Size: 4.5*3.0mm
Protection: over-current, voltage and auto recovery
Output protection: over-load and short-circuit protection
AC inlet: plug-in type
Insulation Strength: Class A
Operating Temperature: -10°C~+40°C (10-90%R.H)
Storage Temperature: -40°C~+60°C (10-90%R.H)
Operating Humidity: 10% ~ 90% RH Non-condensing
Storage Humidity: 5% ~ 95% RH Non-condensing
Case materials: PC, ABS, or equivalent
Setup,rise,hold time: 200ms,100ms,30ms/230VAC
Condition: Brand New
Power Cord Cable: NZ Plug
Package Include: 1* AC Power Adapter and 1*Power Cord
Check the Dell laptop charger voltage and current.

Normally you can find these parameters on a label at the bottom of the notebook. For example, the tag shows "Input: 19.5V 3.34A", then the corresponding parameters of the Dell laptop power adapter is "Output: 19.5V 3.34A".
Sometimes there is not a tag at the bottom of your Dell laptop, then you can check the tag of your original Dell laptop charger.
Check the Dell laptop charger connector size.

Our Warranty For Dell 19.5V 3.34A 65W Charger
1.Fast shipping: the Dell 19.5V 3.34A 65W charger will be shipped out in 36 hours.
2.Worldwide shipping: we also provide worldwide shipping service to other country.
3.Free power cord: the Dell 19.5V 3.34A 65W power adapter is with free power cord.
4.Secure payment: check and pay via Paypal, most secure payment for your order.
5.Full 12 months warranty, 30 days money back guarantee.

Payments For Dell 19.5V 3.34A 65Watt Power Adapter
We just accept Paypal payments, and the credit Card payments via Paypal. So you need not to register and create an account on this site, all the orders are finished via Paypal. Faster shopping experience and keeping your personal information secure. (The Paypal supports credit card payment channels, you don't even have to create a Paypal account.)
New Zealand Delivery Of Dell 19.5V 3.34A 65Watt Charger
Normally, the laptop power chargers will be shipped out in 36 hours after we receive your order(all the orders during holidays would be shipped on the first working day after holidays). The order will be shipped by the New Zealand Post, and normally it will take about 6 – 12 working days for delivery after the items shipped out. If you want a faster delivery, you can select the DHL shipping, it takes about 3 - 7 working days.